GEORGE LOWE'S
1995 GOLF "CITY" EDITION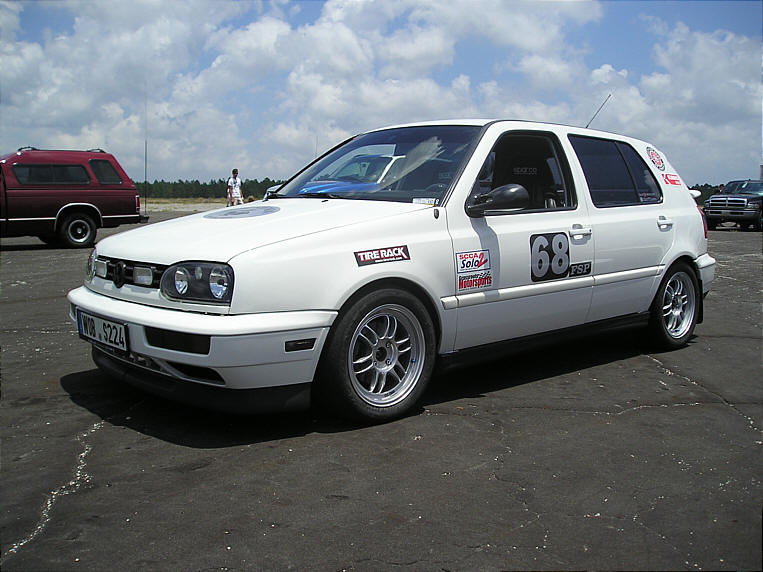 I purchased this car new in August of 1995. This was formally my daily driver but is now my full time SCCA race car. It is entered in the F-Street Prepared class and is raced at least once a month in Pensacola, Florida at Bronson Field. The car has over 130,000+ miles on it with the original engine in an un-rebuilt state. I recently had the transmission completely rebuilt and had a Quaife added to help during track days.
The car has been entered in a few shows since I've owned it, winning 1st place seven times, 2nd place three times, 3rd once. The one show that meant the most was the 2nd place "Peoples Choice" at the 2001 1552 Winter Treffen show.
The vision I originally had for the car has changed many times while I've been building it. As you can guess with my current use for it I am trying to lighten the car as much as I can and still stay with in the rules of the SCCA class I run in.
This is a run in third gear before the cam
and down-pipe

This is a run in third gear after the cam
and down-pipe

Theses are current runs after the tranny rebuild
with the Quaife LSD, Lightweight flywheel, and race clutch

ENGINE
TT Tuning custom e-prom
TT Tuning 268° camshaft
TT Tuning 2" race downpipe (w/jet-hot)
BSI Racing Transmission rebuild
BSI Racing 6-puck race clutch and pressure plate
Quaife Limited Slip Differential
Lightweight Flywheel
Schrick baffled aluminum oil pan
VW Motorsport oil windage tray
New Dimensions 2.25" stainless cat-back exhaust
Eurosport Cool-flo
Turn 2 front lower engine mount
Turn 2 transmission mount
New Dimensions 8mm wires
New Dimensions lo-temp fan switch & thermostat
Neuspeed short shift kit
Jamex polished hood lifts
Trimsport aluminum oil dipstick
Hose techniques blue vacuum hoses
SUSPENSION
FK Konigsport coilovers
Neuspeed upper strut tower bar
Autotech lower front tie bar
Neuspeed rear upper tie bar
Neuspeed 28mm rear sway bar
ABD Racing polyurethane bushing set
Bonrath Polished front strut caps
7x17 BBS RG-R (daily)
7x15 Enkei RP-F1 (race)
Autotech front & rear steel brake lines

INTERIOR
Sparco Torino seats (black/gray)
Sparco lap5 steering wheel
Sparco X-Speed shift knob
Schroth autocontrol rally 3 belts
Awesome GTI white face gauges
Momo leather gate boot
Momo aluminum pedal set
New Dimensions aluminum door pins
MHW aluminum mirror adjusters
Hofele design heater controls
Legend 5 stainless steel door sills
2000 Cabrio door pulls
2000 Cabrio leather e-brake
Euro GTI headlight switch w/ rear fog
VDO oil pressure gauge
VDO oil temperature gauge
VDO volt meter

ICE
Alpine CDA-7842 40w-4 head unit
Alpine CHA-1204 12 disc changer
JL Audio XR100-CT 1" tweeters
JL Audio VR650-CX 6.5" coaxial
JL Audio 6.5" midrange





EXTERIOR
Hella smoked MK4 look headlights
Hella Red/Black/Red taillights
Hella grill with driving lights
Hella smoked side markers
Hella smoked turn signals & reflectors
Hella twin air horns
JOM stubby antenna
Hagus M3 mirrors
Freedom design rear lower wing
Euro GTI VR6 Front spoiler


Night vision provided by HELLA.....